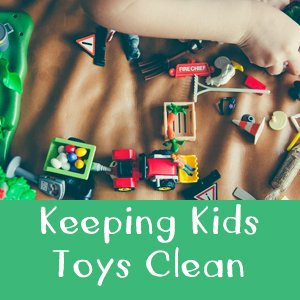 With spring around the corner it's time to start the annual "Spring Cleaning". Today Kinder Buddies wants to give some tips on sterilising your kids toys.
Cleaning Plastic Toys
A great natural cleaner is white vinegar. Fill a bucket with 50% warm water and 50% white vinegar. White vinegar is a natural disinfectant. Soak the toys for around 30 minutes. Rinse well. Looking for something a little less involved? Place the toys in the dishwasher for a good soak! Do be cautious with any toys that are hollow and have holes in them. To avoid mold growth on the inside use the same vinegar solution and hand wash.
Cleaning Wooden Toys
Wooden toys need a little more care than plastic. Never soak wood as it can ruin the wood. Instead of soaking, spot clean the toy using white vinegar and promptly dry the toy so it doesn't soak in. Since wood is porous you also want to avoid any harsh chemicals. If you don't want to use white vinegar make sure to use a mild soap.
Cleaning Bath Toys
Bath Toys you can soak in white vinegar like the plastic toys above. Unfortunately since bath toys spend their time mainly in water any holes in the toys can get water inside as well as mold! Seal holes in any new bath toys with a hot glue gun.
Cleaning Sippy Cups/Bottles
Make sure when buying sippy cups and bottles that they can be taken apart completely for cleaning. Many cups with locks have nooks and crannies that are prime for mold growth. If you typically use your dishwasher for your cups and bottles try hand washing lids once a week to make sure every part of the cup is being cleaned.
Cleaning Teethers
Teethers spend a lot of time in the mouths of our little ones so naturally we want to make sure they are clean! If the toy is completely solid boil some water and let the Teether soak for 5 minutes before washing. If your Teether is hollow or has any holes you do have a risk of mold just like bath toys, do not soak these items. Instead of soaking hollow Teethers hand wash and disinfect with dish soap or white vinegar.
Cleaning Stuffed Animals
For any of your stuffed animals that do not have mechanics inside and are not delicate you can put them in a pillow case (tied) and wash them in the washing machine. Make sure to use cold water and use the gentle cycle. For delicate stuffed animals or any stuffed animals with electronics spot clean with a mild detergent and warm water. Do not put any stuffed animals in the dryer, always air dry.
---
Kinder Buddies is a Quality First Daycare and Child Care facility in Oakville, Ontario. We take care of children from the age of 6 weeks to 5 1/2 providing nutritious meals and fun activities all day long.