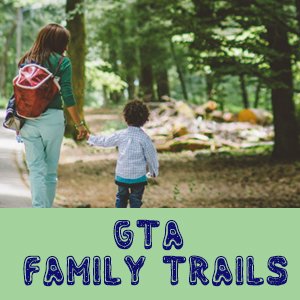 With Father's Day happening this weekend a great way to spend time together is on a hike! We are very lucky to live in the GTA with many different hiking trails to choose from! Today we at Kinder Buddies Child Care will talk about popular hiking trails in the Halton region for families.
Culham Trail – Mississauga (12km)
Starting at Erindale Park Culham trail can be 12km from start to finish if you're looking for a day trip. The path is gravel and asphalt making it ok for bikes and strollers. Parking available at Erindale Park.  More info here.
Rattray Marsh Conservation – Mississauga (1.8km)
To get to Rattray Marsh you can start by Parking at Jack Darling Park and walking down the beach to the marsh. The marsh trail is a bit shorter, but a beautiful and fun experience either way. There is a boardwalk over the marsh and some gravel/dirt trails through the woods. While there is no biking allowed, strollers are ok.
The Rattray Marsh trail is a part of the larger waterfront trail from Niagra to Tobermory. Learn more about Rattray Marsh and the trails here and here.
Bronte Creek Provincial Park Loop – Oakville (5km)
Located within Bronte Creek Park you can park at the front and walk the trail around the park in one loop. Most of the trail is ok for strollers and is pet friendly. Learn more about the Park Loop here and here.
Spencer Smith Park – Burlington (Less than 1km)
At Spencer Smith Park in Burlington there is a beautiful water front paved trail. Perfect if you want something short. Also great on hot days and the trail leads to the Burlington Beaches for wading and swimming after your walk. This trail is a part of the Waterfront Trail and can be taken longer if you want.
Paid Parking available downtown Burlington near the park. More information about Spencer Smith Park available here.
Bayfront Park: Hamilton Waterfront Trail – Hamilton (7km)
Bayfront Park Waterfront Trail is perfect for biking/rollerblading and stroller friendly. Plenty of free parking available at Pier 9 or the Bayfront Park Haborfront. This trail is paved in asphalt and goes along the waterfront. A smaller loop is available for a shorter trail in the Harborfront. Like most of the trails on this list, this trail is a part of the larger Waterfront Trail that goes from Hamilton to Toronto along Lakeshore. Learn more about the Hamilton Waterfront Trail here and here.
Reminder to our families at Kinder Buddies we will be celebrating Father's Day at our yearly Father's Day BBQ. Please come and enjoy good food and good fun at our daycare.
---
Kinder Buddies Oakville Child Care is a Quality First Daycare and Infant Care facility in Oakville, Ontario. We take care of children from the age of 6 weeks to 5 1/2 providing nutritious meals and fun activities all day long.