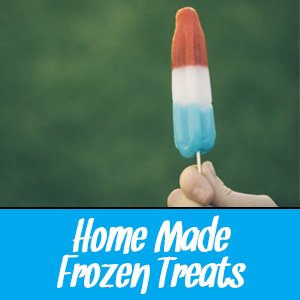 It's hot out but that is a great excuse to indulge in fun frozen treats! Today we at Kinder Buddies will list some cool recipes we have found for frozen treats you can make at home! Looking for more of a healthy snack, we have a a post about fun and healthy snacks too!
Ice Cream Cookie Sandwiches
Ice Cream sandwiches are great but always seem so expensive! Grab a regular tub of your favourite ice cream and a bag of your favourite cookies (chocolate chip!) Take it a step forward and make your own favourite cookie at home from scratch! Extra time on your hands? Consider making the ice cream from scratch too!
Home Made Ice Cream
While ice cream is easiest to buy, it's sometimes a worthwhile adventure to make your own! No fancy equipment needed, just a stove, a whisk, and a freezer. Here are some cool home made recipes:
Frozen Pudding Pops
Pudding pops are super easy to do!
Popsicle moulds are cheap and easy to find at your local dollar store or grocery store. If you don't want to invest you can also use an ice cube tray (mini pops) or dixie cups. Cover the top of the ice cube tray or dixie cups with cling wrap and add your popsicle sticks! For Ice Cube Trays snap your popsicle sticks in half so they don't stick out too much.
1 package – Chocolate or Vanilla Jell-O Pudding
2 Cups – 2% Milk
Mix well with a whisk or a mixer, pour into your mould of choice, pop in the freezer and wait and hour or two for your treat to be ready!
Fruit Popsicle's
Again for home made fruit Popsicles you can use Popsicle mould or icecube trays/dixie cups. You can use any container that can go in the fridge and just add a Popsicle stick. Here is a list of some cool flavour we have found:
Enjoy your summer!
---
Kinder Buddies Oakville Child Care is a Quality First Daycare and Infant Care facility in Oakville, Ontario. We take care of children from the age of 6 weeks to 5 1/2 providing nutritious meals and fun activities all day long.