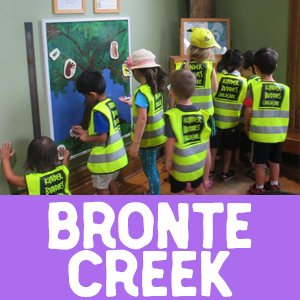 Kinder Buddies believes in hands on learning which is why we take so many field trips! Nothing is better than having the kids learn in a new environment. This past week our little ones had a chance to visit Bronte Creek to learn about the environment and meet some animals.
Bronte Creek is a great destination for camping, hiking, swimming, and any other outdoor activity you can think of! What's great about Bronte Creek is that it is right on the boarder of Oakville and Burlington, you don't need to go far to get away for the weekend! The daily vehicle permit is $17.00.
Camping with the Family
Bronte Creek park has camping available from April to the end of October (2017). Camp spaces are available for RV's as well as tents. Campsites are paid for daily ranging from $47 for a regular campsite to $72 for a group site.  You can even rent a Yurt for $98 that sleeps 6, perfect for a family! To reserve a spot you can call or reserve online on their website.
Day Swim at Bronte Creek
The outdoor pool at Bronte Creek is actually one of the biggest in Canada! Open from July to Labour Day the pool opens from 11am-6pm daily (weather permitting). Children 3 and under are free while adults are $3.75 , children from 4-17 are $2.75.
Life Jackets are available to rent and change rooms are available on site. If you're thinking of bringing lunch outside food is permitted with grassy areas around the pool available for having a picnic. Learn more about taking a swim at Bronte Park on their Website!
 Hiking
We have mentioned before in our blog about Family Hiking in the GTA Bronte Creek has some really great trails for families! Some trails allow bikes while others are great for families with strollers. Bronte Park has 5 different hiking trails ranging from 1km to 2km. Bronte Creek Hikes are a great opportunity for looking at flora and fauna. Bring along a camera and have your little one take pictures of all the creatures they can find!
Fishing
Fishing is available with a the day entrance fee on the Halfmoon Valley Trail. Depending on the season you can catch Rainbow Trout, splake, steelhead, and Pacific Salmon on the creek! Bring your own equipment and some bug spray and spend a relaxing afternoon fishing.
Organized Activities
Year round Bronte Creek hosts a multitude of activities and events from small activities like going on an Insect Hunt to large events like their weekend long harvest festival! Stay up to date on Bronte Creek activities on their website!
---
Kinder Buddies Oakville Child Care is a Quality First Daycare and Infant Care facility in Oakville, Ontario. We take care of children from the age of 6 weeks to 5 1/2 providing nutritious meals and fun activities all day long.