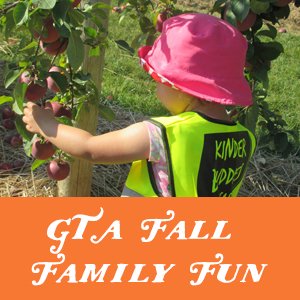 While it hasn't quite felt like autumn yet all fun fall activities are starting up! Fall is known for local farms, apple picking and pumpkin picking, thanksgiving and hay rides! Kinder Buddies Oakville Child Care knows this so we got a head start by taking our little ones on a trip to  Chudleigh's farm in Halton Hills Milton. Today we will go over some fun family fall spots in the GTA! Continue to the bottom to view pictures from our field trip!
Chudleigh's Farm
9528 Regional Road 25 Halton Hills, Ontario L9T 2X7
Admission Cost: 13$ per person but there are deals for families! (Cards Accepted)
Hours: 10am – 4pm
Chudleigh's Farm is a great place to go apple picking in the gta! Near Milton in Halton Hills prepare for apple desserts, apple picking, and animals for the kids to meet! Bring a home made apple pie to this years Thanksgiving with apples you and your family have picked together!
Downey's Farm Market
13682 Heart Lake Road Brampton, Ontario L7C 2J5
Admission Cost: 14$ per person with rates for families (Cards Accepted)
Hours: Open Daily from 10am – 5pm
Downey's Farm Market is the place to go for those living closer into the GTA: Mississauga/Etobicoke/Brampton. Downey's celebrates "Pumpkin Fest" from September to the end of October with a variety of activities for the whole family!
Springridge Farm
7256 Bell School Line Milton, Ontario L9E 0N7
Admission Cost: $12 Per Person
Hours: 10am – 4pm
Springridge Farm in Milton is great all year round from Easter Festivals to the Harvest Festival September through October. On top of the regular fun activities there is also the Barn Market to purchase fresh produce and pastries!
Lindley's Farm
900 Fiddler's Green Road, Ancaster, ON L9G 3L1
Admission Cost: Varies per Activity (8$ – 15$) (Debit Accepted)
Hours: 10am – 4pm
Lindley's Farm is in Ancaster a short drive from Burlington just outside Hamilton. Lindley's is the best for those on the edges of Halton. Lindley's is also a little more affordable as you can pay just for the Hay Ride Pumpkin Picking which is $8.00 per person.
Let us know your favourite fall spots!
---
Kinder Buddies Oakville Child Care is a Quality First Daycare and Infant Care facility in Oakville, Ontario. We take care of children from the age of 6 weeks to 5 1/2 providing nutritious meals and fun activities all day long.