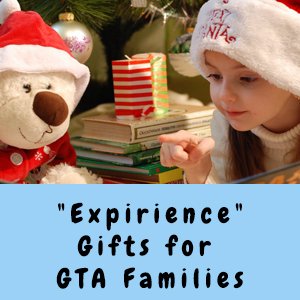 It seems now a days kids have all they could ever want. There is also the possibility you're not sure what toys/books would be age appropriate for kids you don't see often; or maybe you just don't know what the kid wants! Sometimes it's easier to give the gift of experiences, so we at Kinder Buddies have created a list of fun experiences for kids in the GTA.
Family Zoo 1 Year Membership
Cost: $195.00 CDN
Purchase Here
For: 2 adults, up to four children (ages 3-15) living at the same address
The Toronto Zoo is so much fun for the whole family, but it is nearly impossible to see everything in one day!
Have the family go back throughout the year to enjoy every animal the Zoo has to offer!
Ripleys Aquarium
Cost: $12 (3-5) $24.25 (6-13) $35 (Adult)
Anytime tickets are good for one year from purchase!
Purchase here
The aquarium is absolutely beautiful and a great option to give for a winter get away! Kids love animals, but the zoo has a lot of outdoor walking. The aquarium lets children interact with animals even when the weather is less than optimal.
Royal Ontario Museum – 1 Year Family Membership
Cost: $161
Purchase Here
For: 2 adults + 4 Children 17 and under
The ROM always has new and exciting Exhibitions so a free entry for the year really pays itself off. The ROM is tons of fun for children with interests in Dinosaurs and History!
Ontario Science Center -1 Year Membership
Cost: $125
Purchase Here
For: 2 Adults + 2 Children
The best part of the Ontario Science Center is that it is aimed for kids and is super hands on! There is tons of fun to be had at the science center making it an easy choice for multiple visits! For a full family even two trips to the Science Center pays itself off making it a great and valuable gift!
Toronto City Pass
Cost: Adult (13+) $86 Child $58
Purchase Here
Toronto City Pass allows the holder to visit multiple Toronto attractions over a 9 day period from first use. Holders can visit: CN Tower/Casa Loma/Royal Ontario Museum/Ripleys Aquarium/Toronto Zoo or the Ontario Science Center.
Important Note: Vouchers bought today are good until February 28, 2019.
---
Kinder Buddies Oakville Daycare is a Quality First Daycare and Infant Care facility in Oakville, Ontario. We take care of children from the age of 6 weeks to 5 1/2 providing nutritious meals and fun activities all day long.