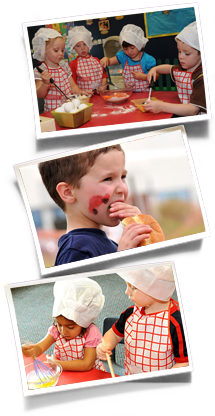 Nutrition is an important factor for healthy kids. Our menu incorporates each of the 4 major food groups based on Canada's Food Guide to ensure our little ones are getting balanced meals and snacks throughout the day. Please feel free to discuss any allergies or dietary restrictions with us, and we will do our best to accommodate your child's specific needs.
Sample Menu
| | | | | | |
| --- | --- | --- | --- | --- | --- |
| Week | Monday | Tuesday | Wednesday | Thursday | Friday |
| SNACK AM | Whole Grain Toast & Jam Fruit Juice | Pancakes with Syrup Fruit Juice | Banana Bread Fruit Juice | Cereal & Milk Fruit Juice | Scrambled Eggs & Whole Grain Toast Fruit Juice |
| LUNCH PM | Tomato Soup with Pasta Crackers Fresh Fruit Milk | Egg Salad Whole Grain Bread Fresh Fruit Milk | Chicken Alfredo Bun Veggie Sticks Fresh Fruit Milk | Chicken Pot Pie with Mash Potatoes Vegetables Fresh Fruit Milk | Turkey Sub with Lettuce, Tomato, Cheese Fresh Fruit Milk |
| SNACK PM | Raisin Bread Fruit Juice | Whole Grain Bagel with Cream Cheese Fruit Juice | Fruit Cocktail Fruit Juice | Tortilla with Jam Fruit Juice | Cheese Crackers Fruit Juice |
We also find that the kitchen is a great place for little chefs-in-the-making to cook up a little creativity (and of course yummy treats!)…Our monthly hands-on activities have all the right ingredients to encourage fine motor skill development, and to get the children involved in measuring, pouring, and stirring up some fun! From baking projects to interactive lunches like tacos and subs, there's always something creative cooking in our Chef's Kitchen!
Allergies
Your child's health and safety is of the utmost importance, and we strive to provide the safest possible environment at Kinder Buddies. In order to maintain an environment that is safe for youngsters suffering from severe food allergies, it is our policy that NO outside food be brought into the centre. Balanced snacks and meals are provided throughout the day, prepared in our on-site kitchen facilities. If your child has special dietary requirements, we would be happy to discuss exceptions on an individual basis.